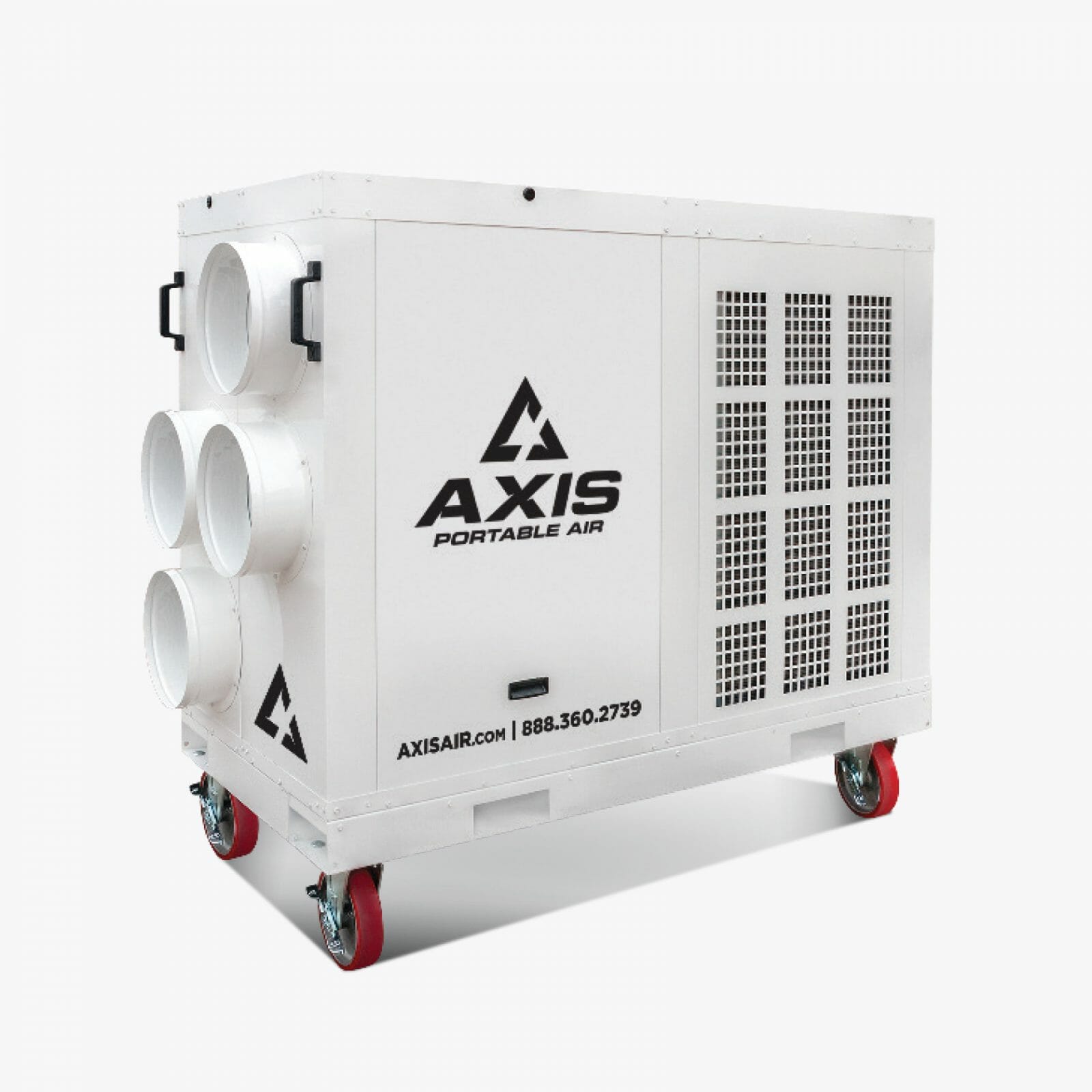 12 Ton AC / Heat Portable Indoor / Outdoor
KwiKool KPO12-23
Key Data
| | |
| --- | --- |
| Brand | KwiKool |
| CFM | 4,500 |
| Cooling BTU's | 135,000 |
| Dimensions | 32 x 64 x 60 in |
| Heat | YES |
| Heating BTU's | 83,300 |
| Model | KPO12-23 |
| Operating Range | 30 - 110˚ |
| Thermostat | Yes |
| Voltage Requirements | 208v / 3p / 80 amp |
| Weight | 1080 lbs |
| | |
| --- | --- |
| Brand | KwiKool |
| CFM | 4,500 |
| Heating BTU's | 83,300 |
| Cooling BTU's | 135,000 |
| Dimensions | 32 x 64 x 60 in |
| Heat | YES |
| Model | KPO12-23 |
| Operating Range | 30 – 110˚ |
| Thermostat | Yes |
| Voltage Requirements | 208v / 3p / 80 amp |
| Weight | 1080 lbs |
Description
The KPO12-23 is the most versatile unit in size and capacity in the KPO Series, KwiKools Indoor/Outdoor line of portables. The KPO12-23 has an extremely small foot print that is ideal for difficult applications that require moving cold air to hard to reach places. The unit can be placed outdoors with duct running into a building space, or it can be placed inside a building and ducted into an interior space.
Features
Low ambient condensing temperature controls utilizing variable frequency drive technologies.
Advanced air flow capabilities, up to 50 feet cold air returns and supply, and up to 25 feet of hot air exhaust ducting.
Heavy duty base has removable wheels and forklift access for easy movement, setup, and transport.
Benefits
Our rental fleet consists of portable air conditioners, spot-coolers, water-cooled air conditioners, and evaporative coolers. Rent a portable air conditioning unit to help cool interior spaces, critical environments, outdoor events, and more. Rent the KwiKool KPO12-23 for industry leading portability, reliability, and temporary cooling capabilities.
download now to learn more.
Our Full Digital Catalog.
Available Now.
---