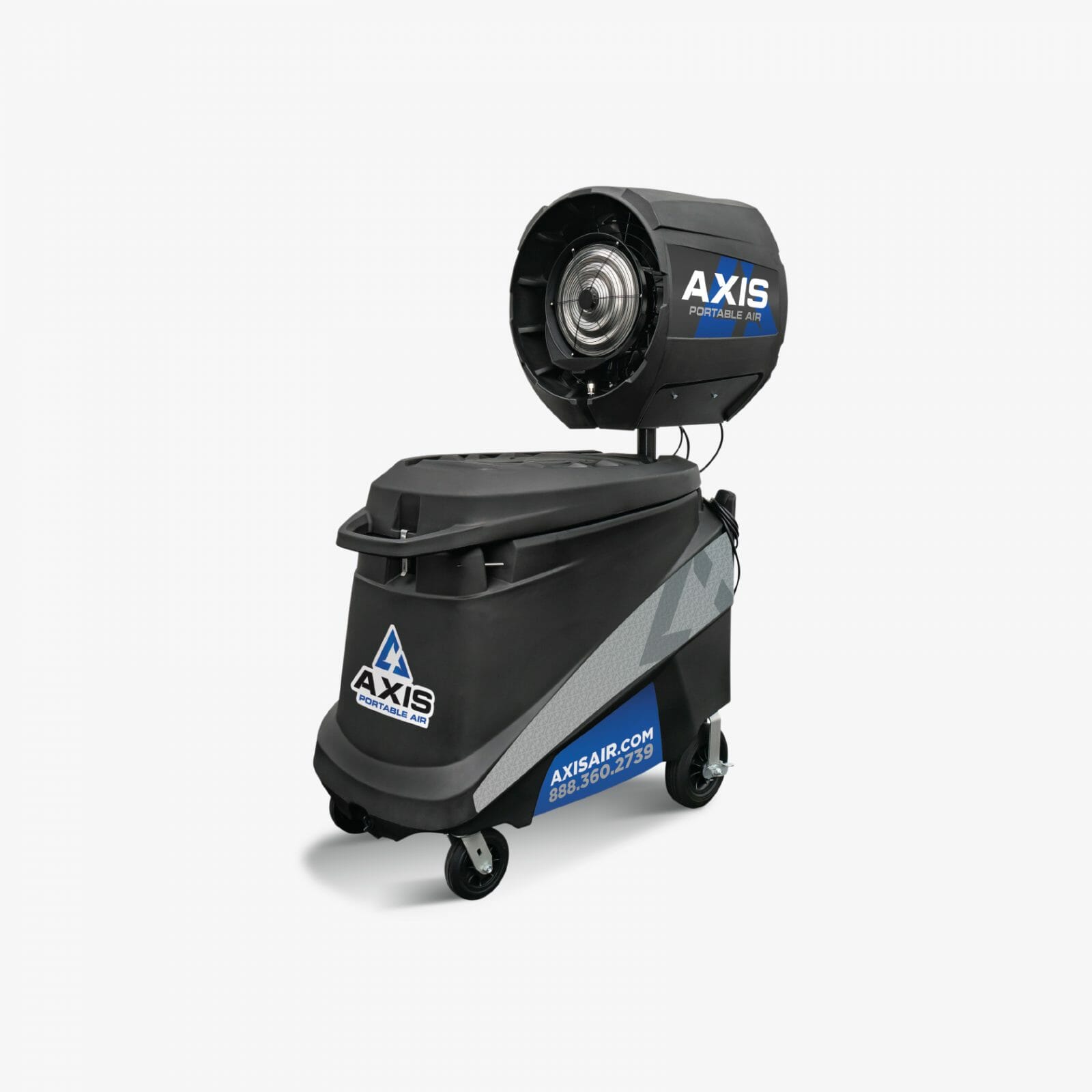 Oscillating Evaporative Cooling Fan
Power Breezer Mach 4
Download Spec Sheet
Key Data
| | |
| --- | --- |
| Brand | Power Breezer |
| CFM | 14,000 |
| Cooling Area (est) | 3000 sq ft |
| Dimensions | 29 x 45 x 73 in |
| Model | Mach 4 |
| Voltage Requirements | 115v / 15 amp |
| Water Tank | 90 Gallons |
| Weight | 240 LBS |
| | |
| --- | --- |
| Brand | Power Breezer |
| Cooling Area (est) | 3000 sq ft |
| CFM | 14,000 |
| Dimensions | 29 x 45 x 73 in |
| Model | Mach 4 |
| Voltage Requirements | 115v / 15 amp |
| Water Tank | 90 Gallons |
| Weight | 240 LBS |
Description
Made for cooling large indoor spaces and mid sized semi-enclosed outdoor spaces. With an oscillating head the Power Breezer Mach 4 has the power and flexibility for almost every application.
Features
Provides cooling for up to 3000 sq ft.
Up to 4-5 day run time with operation at 10-12 hours per day.
The Mach 4 provides mist up to 40 ft and wind up to 100 ft away.
Benefits
Our rental fleet consists of portable air conditioners, spot-coolers, water-cooled air conditioners, and evaporative coolers. Rent a portable air conditioning unit to help cool interior spaces, critical environments, outdoor events, and more. Rent the Power Breezer Mach 4 for industry leading portability, reliability, and portable evaporative cooling capabilities.
download now to learn more.
Our Full Digital Catalog.
Available Now.
---