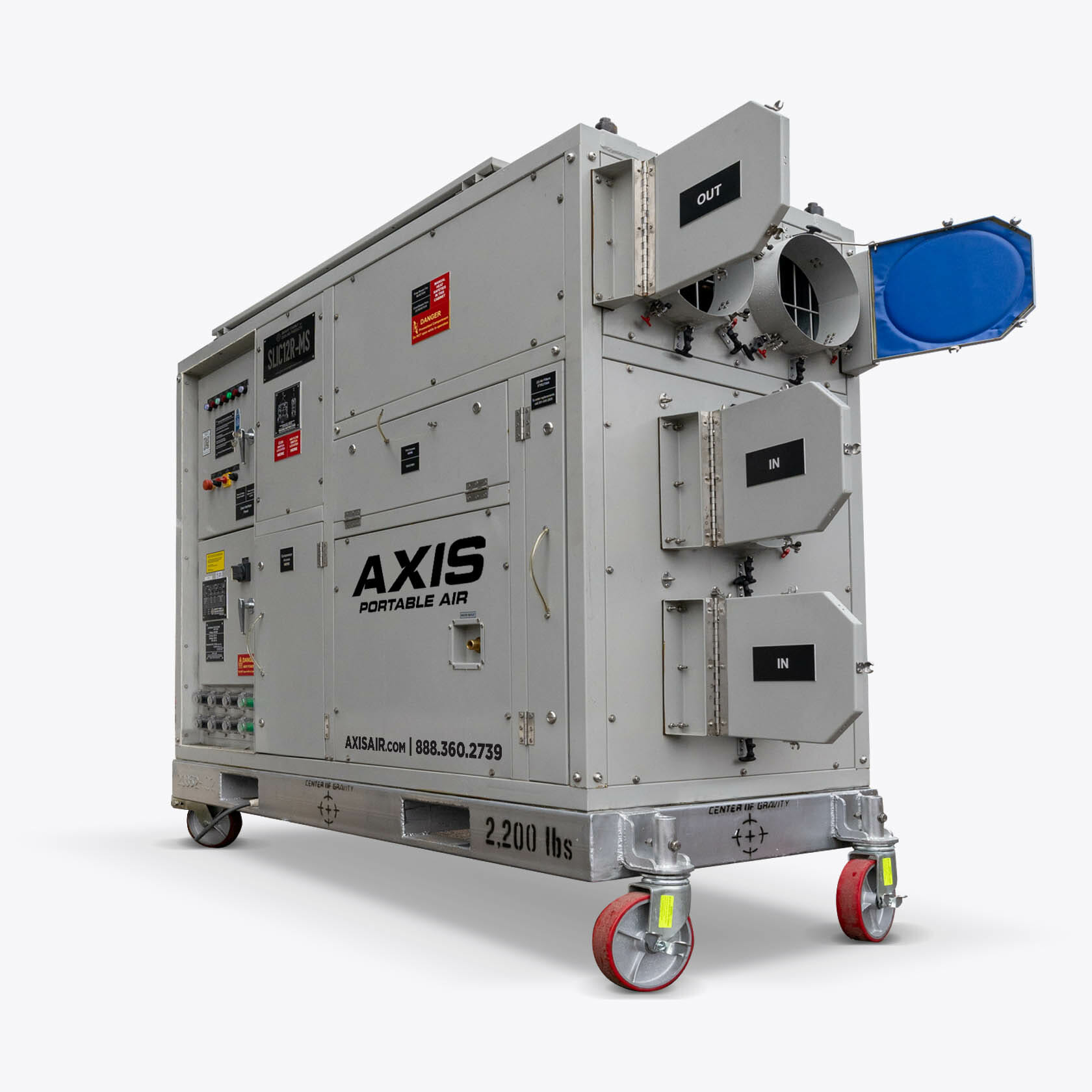 12 Ton AC / Heat / Dehumidification - Portable Indoor / Outdoor
Smart Family SLIC12R-MS
Download Spec Sheet
Key Data
| | |
| --- | --- |
| Brand | Smart Family |
| CFM | 1,500 - 4,500 |
| Cooling BTU's | 144,000 |
| Dimensions | 96 x 35 x 76 |
| Heat | YES |
| Heating BTU's | 83,300 |
| Model | SLIC12R-MS |
| Operating Range | 0º - 110º F |
| Thermostat | Yes |
| Voltage Requirements | 460v / 3p / 40amp - Cooling & Heating, 460v / 3p / 65amp - Dehumidification |
| Weight | 2200 lbs |
| | |
| --- | --- |
| Brand | Smart Family |
| CFM | 1,500 – 4,500 |
| Heating BTU's | 83,300 |
| Cooling BTU's | 144,000 |
| Dimensions | 96 x 35 x 76 |
| Heat | YES |
| Model | SLIC12R-MS |
| Operating Range | 0º – 110º F |
| Thermostat | Yes |
| Voltage Requirements | 460v / 3p / 40amp – Cooling & Heating, 460v / 3p / 65amp – Dehumidification |
| Weight | 2200 lbs |
Description
The Smart Family 12 Ton unit is a powerful and versatile unit serving multiple functions - Cooling, Heating, and a Dehumidification mode. The Smart Family 12 Ton can be operated indoors and outdoors. The SLIC12R-MS has a small foot print that is ideal for difficult applications that require moving cold air to hard to reach places. The unit can be placed outdoors with duct running into a building space, or it can be placed inside a building and ducted into an interior space. 100% OSA Capable.
Features
Low ambient condensing temperature controls utilizing variable frequency drive technologies.
Advanced air flow capabilities, up to 100 feet cold air returns and supply, and up to ~50 feet of hot air exhaust ducting. 100% OSA Capable.
Heavy duty base has removable wheels and forklift access for easy movement. Lifting eyes for crane capabilities.
Benefits
Our rental fleet consists of portable air conditioners, spot-coolers, water-cooled air conditioners, and evaporative coolers. Rent a portable air conditioning unit to help cool interior spaces, critical environments, outdoor events, and more. Rent the Smart Family SLIC12R-MS for industry leading portability, reliability, and temporary cooling capabilities.
download now to learn more.
Our Full Digital Catalog.
Available Now.
---