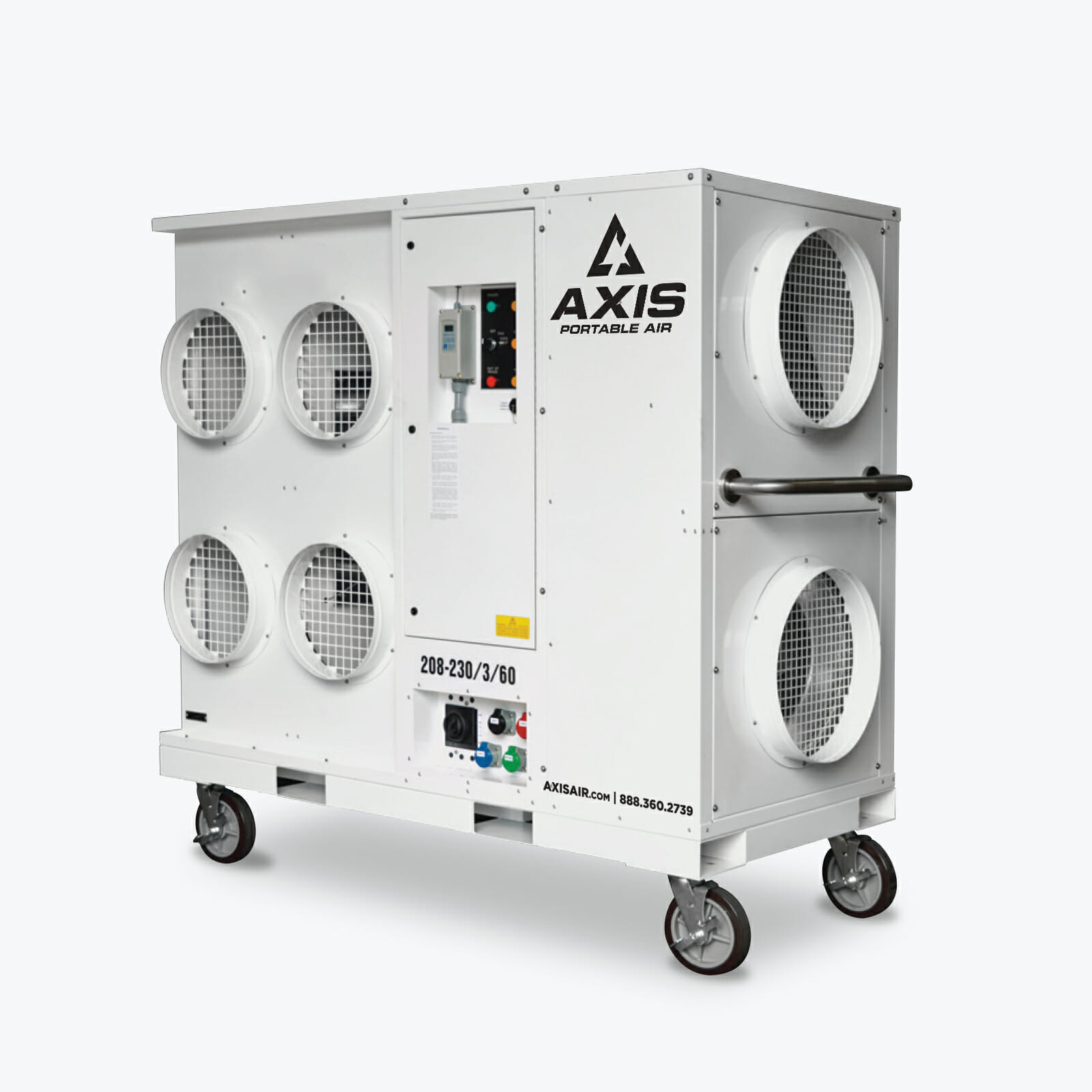 12 Ton AC/Heat Portable Indoor / Outdoor
UCA Mach145-G3
Key Data
| | |
| --- | --- |
| Brand | United Cool Air |
| CFM | 4,000 |
| Cooling Area (est) | 4,800 SQ FT |
| Cooling BTU's | 135,000 |
| Dimensions | 78" x 34" x 71" |
| Heat | YES |
| Heating BTU's | 67,200 |
| Model | MACH145-G3 |
| Operating Range | 30 - 110˚ |
| Thermostat | Yes |
| Voltage Requirements | 208 / 3P / 80A |
| Weight | 1500 lbs |
| | |
| --- | --- |
| Brand | United Cool Air |
| CFM | 4,000 |
| Heating BTU's | 67,200 |
| Cooling BTU's | 135,000 |
| Dimensions | 78″ x 34″ x 71″ |
| Heat | YES |
| Model | MACH145-G3 |
| Operating Range | 30 – 110˚ |
| Thermostat | Yes |
| Voltage Requirements | 208 / 3P / 80A |
| Weight | 1500 lbs |
Description
Designed to fit through a standard 36" door opening, the MACH145 allows for increased tonnage and static pressure in places never thought obtainable with a 12 ton unit. The MACH145 delivers over 4,000 CFM at 1.5" of External Static Pressure on both the evaporator and condenser allowing longer duct runs. Designed with the rental/temporary industry in mind, the MACH145 comes with a standard 4-way forklift pod and 8" Casters for easy mobility on any job site. As with all UCA portable products, the MACH145 is rated for both indoor and outdoor applications.
Features
Advanced air flow capabilities, up to 50 feet cold air returns and supply, and up to 25 feet of hot air exhaust ducting.
Heavy duty base has removable wheels and forklift access for easy movement, setup, and transport.
Benefits
Our rental fleet consists of portable air conditioners, spot-coolers, water-cooled air conditioners, and evaporative coolers. Rent a portable air conditioning unit to help cool interior spaces, critical environments, outdoor events, and more. Rent the United Cool Air Mach 145-G3 for industry leading portability, reliability, and temporary cooling capabilities.
download now to learn more.
Our Full Digital Catalog.
Available Now.
---